In Singapore, a city at its mark of multi-cultural renaissance; secretly witnessed the birth of this aced quintet. Featuring Southeast Asia's finest self-expanding musical cats, Ragha (Bansuri), Rachma (Piano), Jase (Bass), Jit (DrumKit), Kumaran (Tabla), in one complete harmony.
Their dynamic yet humble relationship began during undergraduate jazz music studies at LaSalle College of the Arts, a prestigious arts college of Singapore, with some previously long termed music friends.
At the request of an invite, Ragha, the lead artist, instinctively called upon his "A-Team" to fire up a Jazz Fusion Band.
RaghaJazz made their debut in the year 2009, for the Asian Vibes Festival, held at Esplanade, Singapore.
They have been featured at various festivals held in Singapore & Internationally such as the Exchange 2018 by Esplanade Singapore, Singapore Heritage Festival 2018, Singapore Writer's Festival 2017, All things new 2017, Sing50 Mega Concert 2016, Arts House Party 2017, Kalautsavam 2015, Mosaic Festival, Bright Young Things, and Jazz in July 2016.
RaghaJazz actively contributes to community events for the National Arts Council of Singapore through programmes such as Arts in Your Neighbourhood, alongside various other prestigious national & corporate events such as Getai Soul Festival & Noise Singapore.
RaghaJazz was a feature at the Launch of the Singapore Musician's Guild in March 2015 with an opening performance in the presence of Professor Tommy Koh (Ambassador at Large for the Ministry of Foreign Affairs Singapore).
This soul lifting quintet Released 3 Digital EP-Singles on March 2015; namely "Chandrakauns-Green-Moon", "Saraswathi" & "My Funny old Flame".
Adding on to their successes; RaghaJazz performed a successful sold-out concert produced by Kalaraagashetram held in Jotic Auditorium, Johor Bahru, Malaysia.
The works of RaghaJazz has garnered more then 30,000 views on social media channels and been a featured study for the UNESCO-CARE NIE research programme on contemporary identities of Singapore musicians
RAGHAVENDRAN RAJASEKARAN
LEADER, COMPOSER & FLAUTIST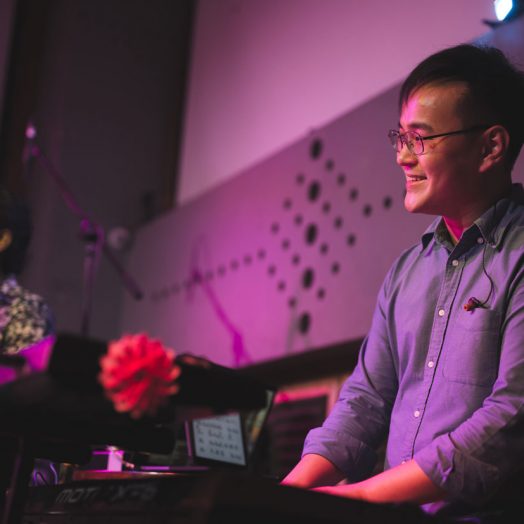 "On My way back to the hotel, I Happened to see this cosy jazz concert.
I was so impressed by the sound. Its the best music in Singapore Night…"
"RaghaJazz Live at Murfest…It just gets better and
better as the night progresses…"
"The group's compositions combine Indian classical music elements
with jazz and creates music that is inextricably tied…"
Have a project in mind?
Let's discuss.